Luxury Camping Packages In Rishikesh To Suit Everyone
Camping Packages In Rishikesh
Camping in Rishikesh at Panchvati Cottage Camp is an affordable and enjoyable choice for a trip to Rishikesh. River Rafting, luxury camping in Rishikesh, and camping along the Riverside. You may participate in a number of adventurous activities with these camping options in Rishikesh, including yoga, cliff jumping, zip line, bonfires, waterfall walks, and rafting in Rishikesh, among others. We offer the best camping and rafting programmes at prices that fit into all spending plans.
Ganga River View Luxury Camping In Rishikesh
By staying at our Ganga River View Luxury Camp, you can experience the iconic beauty and rich religious history of the River Ganga and rejuvenate your body and soul with its naturally cleansing waters. Near the main city of Rishikesh, our camp is only 150 metres by foot from the road connecting it to Upper Uttarakhand. The campground's distinguishing qualities are:
Ganga River View Luxury Camp
Easily accessible Ganga Beach
Clean and hygienic Camps
Attached Washroom
Neat and clean swimming pool
Dining area, volleyball, and badminton court.
Facilitated with Air-coolers
24-hour Electricity supply
View More
Call Now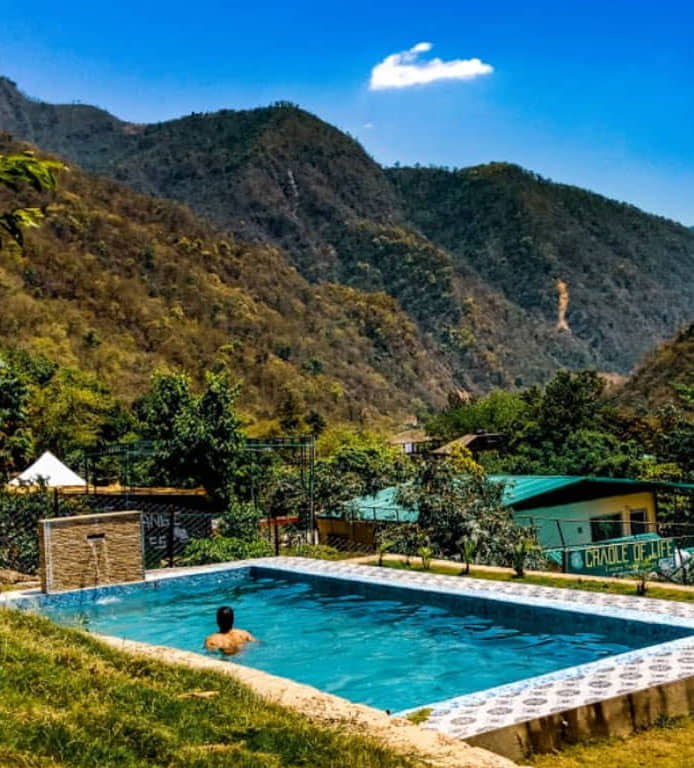 Luxury Camping In Rishikesh
One of the best luxury camping in Rishikesh, Panchvati Cottage offers top-notch services at extremely reasonable pricing while being encircled by breathtaking hills and lush vegetation for relaxation and rejuvenation. On the banks of the revered Ganges River, the campsite is about 150 metres from the main road.
The exclusive facilities provided at our luxury campsite include:
Spacious camps adorned with colourful bed linen, curtains, and carpets
Lavish double beds with comfortable mattress
Soothing homey interior
Attached washroom
Uninterrupted electricity and water supply
Comfortable desk chair and a table
Fan/Air-coolers
Room Service
A clean swimming pool
View More
Call Now
One of the most exhilarating activities you could attempt in Rishikesh is river rafting in the sparkling Ganges, which rises from the massive Himalayan glaciers. The Ganges River offers the best river rafting in the world thanks to its crystal-clear, chilly waters, superb rapids, and steep cliffs that are encircled by imposing hills and verdant valleys.
Rafting in Rishikesh includes:-
1 Night stay at the campsite in Rishikesh
Ganga River Rafting
Cliff Jumping
Body Surfing in Ganga
Inclusive of meals and snacks
Bonfire and music while stay
View More
"Invest in memories to cherish for a lifetime"
Adventure Activities In Rishikesh
In Uttarakhand, Rishikesh is often referred to as "Adventure City." Being the centre of adventure sports, Rishikesh invites you to partake in the exhilarating activity to offer you a much-needed break from the monotonous existence and provide the memories of a lifetime, inspiring you to return.
It is well-known for being one of the holiest towns in India as well as for providing a wide variety of adventurous activities. You will be surprised and internally invigorated after participating in some of the breathtaking adventure activities we have covered at Panchvati Cottage.
Additionally, all adventure activities are performed safely and under professional supervision.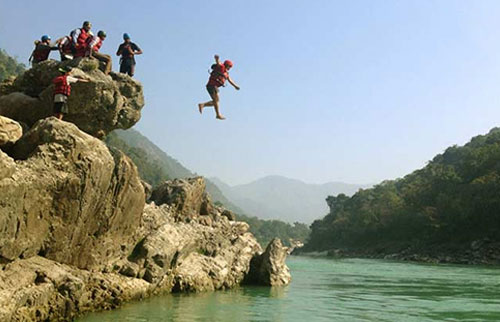 Cliff Jumping In Rishikesh
Cliff jumping is a thrilling activity where you can experience a free fall from a cliff at a safe height into the chilly Ganges River and plunge deep to feel the sensation throughout your entire body. Cliff leaping will make you pleased, but ardent adventurers will experience yet another triumph. In addition to this, you will take in the tranquil views of the wilderness and the valley.
Body Surfing in Ganga
Bodysurfing is a soothing water activity that allows you to feel each wave of the water going beneath your body and take in the complete lightness of the Ganges River's magnificent waves. Immersion in and floating on the water have an absolute rhythm that releases happy hormones associated with excitement and fun.
Water Rafting in Rishikesh
Adventure enthusiasts in Rishikesh primarily pursue white water rafting. Water rafting in Rishikesh is the most well-known adventure sport, thus you must do it before leaving. Those times will always be cherished for the delightful experience of rafting in the glistening Ganga River amidst lush green mountains and riding the flow with splashes of water all over the body.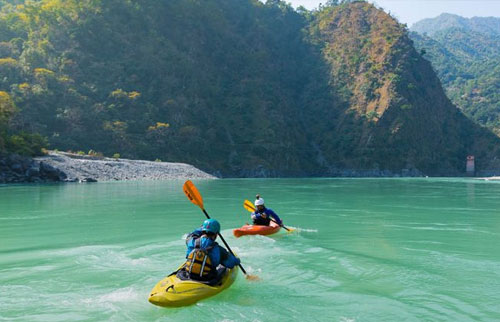 Activities at Ganga Beach
The Ganges beaches are easily accessible from our campsite because of its proximity to the Ganges river. You can engage in a variety of activities while visiting Ganga Beach, including playing outdoor sports like beach volleyball and taking in the natural beauty. The icing on the cake will undoubtedly be bonfires, music, and downtime.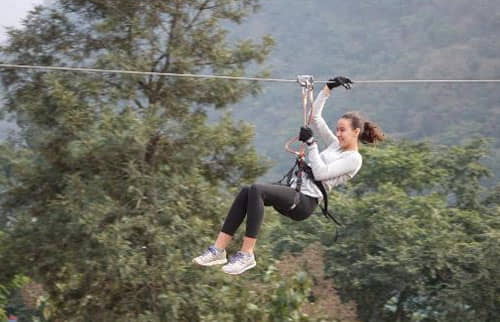 Zipline In Rishikesh
The Ganges River zipline offers breathtaking views of the river as well as the valley's sturdy mountains as it flies through the air like a free-flying bird. Experience the breathtaking thrill of ziplining about 70 metres above river level to feel the crisp, refreshing breeze of the air.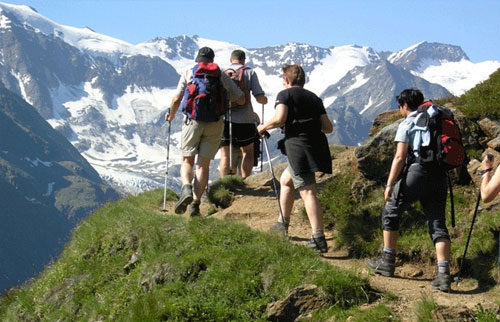 Hiking & Trekking In Rishikesh
Enjoy mountain hiking and trekking in the tranquil but energising setting of Uttarakhand with us as we discover the breathtaking scenery and neighbouring villages. As you ascend the steep slopes and step upon these amazing cliffs, evaluate your strength and endurance while being charmed by the straightforward and genuine local culture.
Due to the presence of stunning and seductive natural settings and the breath-taking view of the Ganges, which provides for an unmatched stay, camping in Shivpuri, Rishikesh, is frequently a draw for travellers from all over the world. The campgrounds at Panchavati Cottage in Shivpuri are created with the utmost consideration for the fundamental safety and hygienic standards, the greatest services, top-notch amenities, and the peace and enjoyment that come from being in nature.
Science has demonstrated that camping outside has several health advantages in addition to being enjoyable. You may learn about yourself, understand your emotions, breathe fresh air, exercise a lot, and re-establish a connection with nature by removing yourself from the craziness of the outer world. Plus, recreational and group activities allow you to associate with people from different cultures who share values and ideas.
Also, combining adventure sports with camping will make your trip much more wonderful.
So, make a plan to camp during these holidays!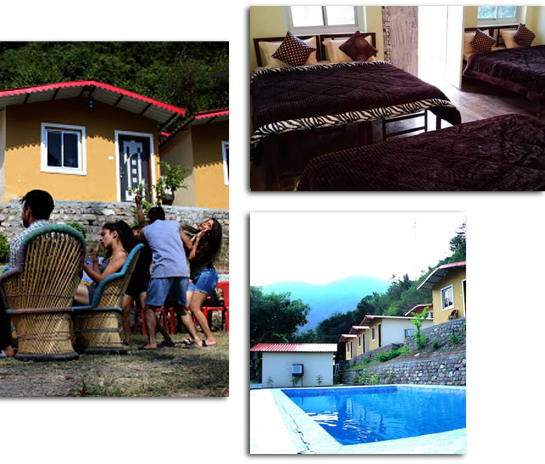 See all activities
Camping In Rishikesh Gallery
Find your next advanture
Things to do With Camping In Rishikesh
With many different locations and activities, Rishikesh is a well-liked camping destination. One of the most well-liked tourist attractions is Rishikesh. There are adventure sports including river rafting, camping, animal safaris, bungee jumping, big swings, flying fox, rock climbing, and trekking available.
Feel The Real Adventure & Fun With Panchvati Cottage
Shivpuri, where you may go rafting in Rishikesh, is well-known not just as an Indians' weekend escape but also as a popular spiritual and adventure destination for international visitors. Confirming the international safety requirements, Rishikesh is the ideal location for anyone looking for adventure for rafting. This "City of Saints" is also known as "The City of Adventures" for this reason.
For many years, rafting has been the most well-liked adventure sport when a small group of people utilise an inflatable raft to navigate a river with the aid of paddles. Activities like swimming, bodysurfing, and cliff leaping are frequent ones on rafting vacations. Every rafting excursion is conducted by a skilled guide who gives the participants all the required instructions and training.
The cost of rafting can range from INR 620 to INR 1500 per person, depending on how far you want to travel. For life safety, standard rafting gear including life jackets, helmets, pedals, dry bags, and river guides are offered.
After visiting this place, you'll want to go rafting repeatedly.
| Rafting Point | Distance | Price | Price For Weeknd | Book Now |
| --- | --- | --- | --- | --- |
| Shivpuri to Neem Beach Lakshman Jhula ( Rishikesh ) | 16 KM | RS. 820/- | RS. 1020/- | Call Now |
| Marine Drive to Shivpuri | 10 KM | RS. 620/- | RS. 620/- | Call Now |
| Marine Drive to Rishikesh | 26 KM | RS. 1220/- | RS. 1500/- | Call Now |
| Barahampuri to Ramjhula ( Rishikesh) | 9 KM | RS. 600/- | RS. 600/- | Call Now |
What's Our Client Say
Camping in Rishikesh Customer Reviews
I want to thank you- the team of Panchvati Cottage, for making my trip so memorable. I found Panchvati Cottage, the best camping in Rishikesh. I loved adventure activities during the rafting trip from Shivpuri to Rishikesh (16 km rafting session).
I recommend Panchvati Cottage for the best camping stay in Rishikesh without thinking a second. Panchvati Cottage is the best place for all activities full of joy and the best experience. I want to connect with you again and again, at least once a year.
I found Panchavati Cottage, an excellent campsite in Shivpuri near Ganga Beach. You should- prefer to book in advance. Because if you come on weekends, there is a problem regarding the availability of the camp. Also, enjoy night music, bonfires, and riverside activities on the river Ganges.
Thanks, Team Panchvati Cottage, for such a memorable experience. I enjoyed camping, River Rafting, and other activities like bonfires, volleyball, and riverside excursions. Excellent camping in Shivpuri Rishikesh - well-bedded, clean, and comfortable tents. And very close to the Ganges beach.
In Rishikesh, do you want to go camping or rafting? Without hesitation, I recommend Panchvati Cottage. It's a place where you may participate in all of the activities while having a great time. The dish was delicious, with a hint of pahadi. At least once a year, I'd like to join you again.